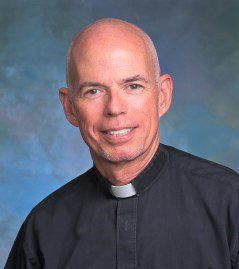 Welcome to you in the Name of Jesus Christ! We are pleased that you have chosen to consider St. Paul Parish as a place to live your Catholic Faith.
We think that we are rich in tradition, history and spirit. The Parish was established in the year 1929 and continues to grow spiritually and physically.
Please fill out this Parish registration form to begin receiving our parish mailings and be enrolled on our membership roster.
We are a Stewardship Parish, a church in which your gifts of Time, Talent, and Treasure are used for the benefit of all. The Ministries page describes the structure of our Parish Ministries. You may indicate the area(s) of ministry in which you are interested on the Parish registration form. There is also a Treasure commitment card; it invites you to decide what financial commitment you would like to make this year, as a sign of your gratitude to God. Please print and return the completed cards at your earliest convenience to the parish office, or drop them in the Sunday offertory basket.
St. Paul Parish is very proud of our outstanding Catholic school, established on 1930. Our school has handed on the Faith to generations of local young people and firmly established a record of academic excellence. We invite you to consider this opportunity if your family includes children of elementary school age, beginning with age three.
We are also very proud of our Children's Center, for infants, toddlers, and two year-olds. This Center was started as part of our effort to serve the needs of our parishioners.
I invite you to join us in our growth in the Holy Spirit and service to our brother and sisters in need. Please call me, or any member of our staff, at the parish office if we may be of further assistance.
Yours in Christ,
Msgr. Robert C. Gibbons
Pastor