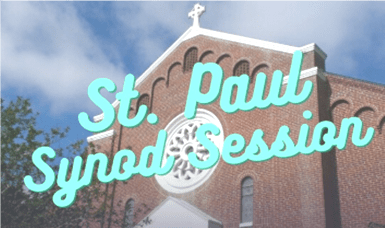 Synod Prayer & Listening Sessions Jan. 13 & Feb. 1
The Church throughout the world is participating in the preparation process for the 2023 World Synod of Bishops. Each parish has a part of the synod preparation process. Parishioners are invited to gather, listen to one another, pray, and reflect upon the Holy Spirit's will for the Church. And then to share the fruit of our discernment with our Bishop, who will share it with the team preparing for the Synod of Bishops to be held in 2023 in Rome.
Participation in this process is open to all our parishioners. We will have two (2) opportunities here in our parish to gather for prayer, listening, and discerning. You are invited to choose one of the sessions. Each session will be held in the School Gym and will last no more than two (2) hours. Call or email the parish office to register for one of these sessions.
• Thursday, Jan. 13, 2022, from 6:30 p.m. to 8:30 p.m.
• Tuesday, Feb. 1, 2022, from 8:00 a.m. to 10:00 a.m.